On a sloping hillside in Hāna, Maui, kukui trees cast the light of their distinctive green foliage on the tranquil grounds of Ala Kukui, a place of healing, education and celebration. Literally translated as "Path of Enlightenment", Ala Kukui is a community-based non-profit utilizing its retreat property and facilities to create place-based programming opportunities that inspire community, ignite potential and empower the human condition within our Hana community and beyond. We believe that when we intentionally cultivate space and opportunities for growth, meaningful transformation can happen.
To restore meaning and purpose in traditional Hawaiian practices that enhance our community.
Ala Kukui is a non-profit organization founded on a community-based model. Retreats support our weekly and year-round cultural programs, workshops and events hosted for the local community. In turn, retreat participants are offered a rare opportunity to engage with the local community and learn traditional and cultural practices of celebration, healing and communication.
Honoring Hawaiian principles and values, the Hāna community plays a foundational role in Ala Kukui's policies, stewardship and operations. Led by Executive Director Kauʻi Kanakaʻole, a respected kumu, or instructor and practitioner of traditional arts, all staff positions are held by longtime Hāna residents.
our mission
Our Mission is to cultivate empowering experiences, evolve Ala Kukui into a place of belonging, inspire collective community, connect through story-telling and grow a kulāiwi that is sustainable for generations.
"The logo should portray a solid base/foundation, an inner strength, and the emanating movement out from that core. Like the pele that has to puka out from within the earths core, or the oha that puka out from the kalo corm, or any kind of protrusion that a maka makes as it mu'os out then kupu, then lau, then lālā. It's the radiating energy of creation, growth or life force that can't be contained or held back.
Then that emitted creative energy impacts all that surrounds it whether it means to or not. The gamut can range from simple acknowledgment to intricate feeding, either way a communal relationship begins. Because of this influence the core is strengthened through the reciprocal creation out, feeding and acknowledgment back in."
our 'ohana
ko makou 'ohana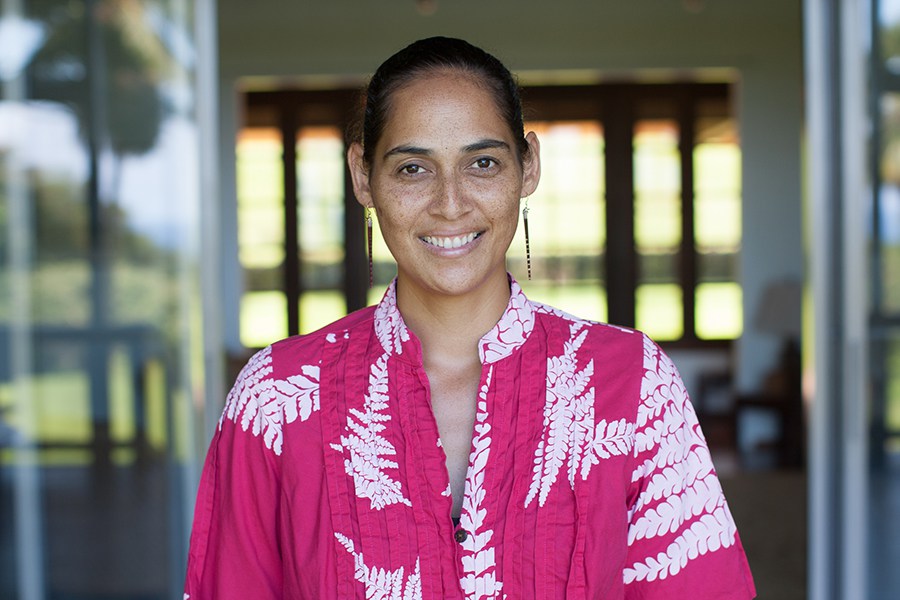 Kauʻi Kanakaʻole
Executive Director
Ala Kukui's Executive Director Kau'i Kanaka'ole is a kumu hula trained in the renowned Halau o Kekuhi with more than 20 years of experience in cultural advocacy. She holds a Bachelor's Degree in Education and has 14 years of teaching experience, including 11 years at Hana School. She was born and raised in Hana and maintains extensive ties to the community.
Moani Aiona
Board Member
Born and raised in Hana, Moani Aiona is currently a school counselor at Hana High and Elementary School. Moani joined our board in July 2016. She brings her years of experience as a hula practitioner to Ala Kukui and is a dedicated advocate of empowering Hana's youth to achieve their goals.
Phillip O' Connor
Board Member
Philip O'Connor is a Managing partner at Blackhorn Ventures, and has been an entrepreneur, investor and advisor focused on water technology, energy, and bioscience. Philip's interest in early stage ventures started with his appreciation for the natural world. This grew with his work at The Biomimicry Institute in Montana, which helped team engineers with biologists to create the next generation of clean technologies. He has since been dedicated to working at the crossroads of nature and technology, aiming to reduce humanities impact through innovation.
Rozitta Hoopai
Board Member
Rozitta Hoopai was born and raised in Hana. This is where she chose to raise her family. Upon graduation from Hana High School Rozitta worked as an educational assistant to the High School counselor assisting students with their post graduation plans. She served as Hana School's Student Services Clerk before moving on to the hospitality industry at Hotel Hana Maui. Rozitta Worked her way up the hospitality career ladder from cocktail waitress, Spa Concierge, Spa & Retail Manager and most recently was promoted to Hospitality Manager at Travaasa Hotel Hana. In addition to full time work, Rozitta was the assistant coach for Hana High School girls volleyball and softball teams.
Rick Rutiz
Board Member
Executive director of Hana nonprofit Ma Ka Hana Ka 'Ike, Rick Rutiz combines over 30 years' building experience with a lifelong passion for mentoring youth. Since founding his vocational training program in 2000, Rick has won numerous awards for his work in the community, including a 2001 Maui News award as one of 10 "People Who Made a Difference" on the island, the 2004 Council for Native Hawaiian Advancement's "Nonprofit of the Year Award," a Maui County Council resolution for national Discovery Channel coverage, the Hawai'i State Governor's "Innovation Award" in 2010, the Maui County Mayor's "Laulima Award" in 2011 for environmental leadership, Maui No Ka Oi's "Environmental Hero" award in 2012, a TEDx presentation at the 2014 TEDxMaui conference, and the 2016 "Humanitarian of the Year Award" from the Maui Nonprofit Directors Association. Rick previously worked as a homebuilder, a chef for restaurants in Paris, and a schoolteacher in the Kenyan bush.
Misty Fontanilla
Administrative Assistant
Misty Fontanilla was born and raised in Hana. After graduation, she pursued a Baccalaureate Degree in Applied Business and Information Technology at the University of Hawaii Maui College in Kahului. After six long years (and a 3-month old on her hip), she acquired her degree, and soon after, returned home to Hana with a strong desire to give back to her community. Misty found her light at Ala Kukui as the Administrative Assistant proudly pushing forward the vision of the organization. Misty is an active makua (parent) of a Punana Leo o Hana student, and is a 'uo mamo (parent representative) for the school. Misty also supports hula Halau o Nakaulakuhikuhi with administrative kuleana, and she is also the Treasurer of the East Side Keiki Riders Club, a non-profit rodeo club for the children of Hana.